The data in SEAD primarily takes the form of biological and chemical/physical proxy data, i.e. fossil frequencies and measured variables derived from soil samples taken from archaeological and natural deposits. See the Concepts page for details of the methods involved in their collection. The database also includes geoarchaeological data from the analysis of ceramic thin sections, and dendrochronological results. Dates, such as radiocarbon or calendar dates, are linked to samples where available, as are bibliographic information and extensive metadata. These allow for a large degree of linking with other databases. Further datasets, although few in number, include the results from modern biological sampling (insects, pollen, plants). Modern ecological reference data are included for most insect species, allowing extensive and detailed palaeoenvironmental reconstructions to be undertaken. These data will be expanded to cover plants with time and in collaboration with other projects.
The initial geographical scope is primarily Sweden, Scandinavia and Europe, reflecting the contents of the initial main data sources: The Environmental Archaeology Lab (MAL) at Umeå University, the BugsCEP dataset, the Laboratory for Ceramic Research and The Swedish National laboratory for wood anatomy and dendrochronology in Lund University. Further partnerships are being established in order to incorporate or collaborate with other datasets in the future, and a data exchange/mirroring partnership exists with the internationally renowned Neotoma paleoecology database and community. A long term plan is for SEAD form the national database infrastructure for a Consortium of Archaeological Research Laboratories.
The pictures below give an indication of the geographical scope of the data currently in, or being processed for ingestion into, or planned for ingestion into SEAD. With time all of these datasets and more will be available online as virtual constiutent databases.
Geographical scope of the The Environmental Archaeology Lab (MAL) dataset (1996-2004).

The geographical scope of the BugsCEP dataset in SEAD. See the BugsCEP website for more details on this dataset.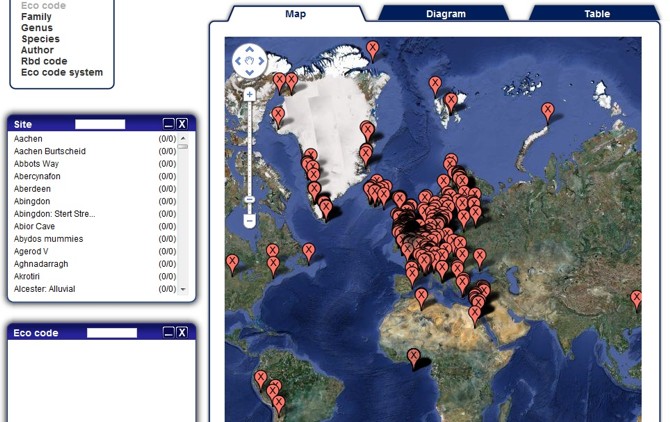 BugsCEP sites displayed in the QSEAD prototype (click the map above or here to open the QSEAD showing all data).


Sites of ceramic thin sections planned for later ingestion, from the Laboratory for Ceramic Research (extract).

Proof of concept test dataset for Småland from the Swedish National laboratory for wood anatomy and dendrochronology.
Database system and structure
SEAD is a relational database, where data are stored in a complex but efficient web of database tables. The structure allows for efficient data retrieval and querying, in other words, it allow complex questions to be asked of the data, and easier integration with other data sources at mulitple levels.
The SEAD database has been modelled using MicroOlap Database Designer for PostgreSQL. Click the image below for a more readable, if not more understandable, pdf version.
Latest data model: SEAD_structure_1224b
Online data delivery and software tools
SEAD provide online access to the raw data, and a number of simple analysis tools to help interpretation. A number of these tools will be derived from those in the BugsCEP system, including those for climate and environmental reconstruction from fossil beetle data. See the tools pages for more information.

Click for the full diagram